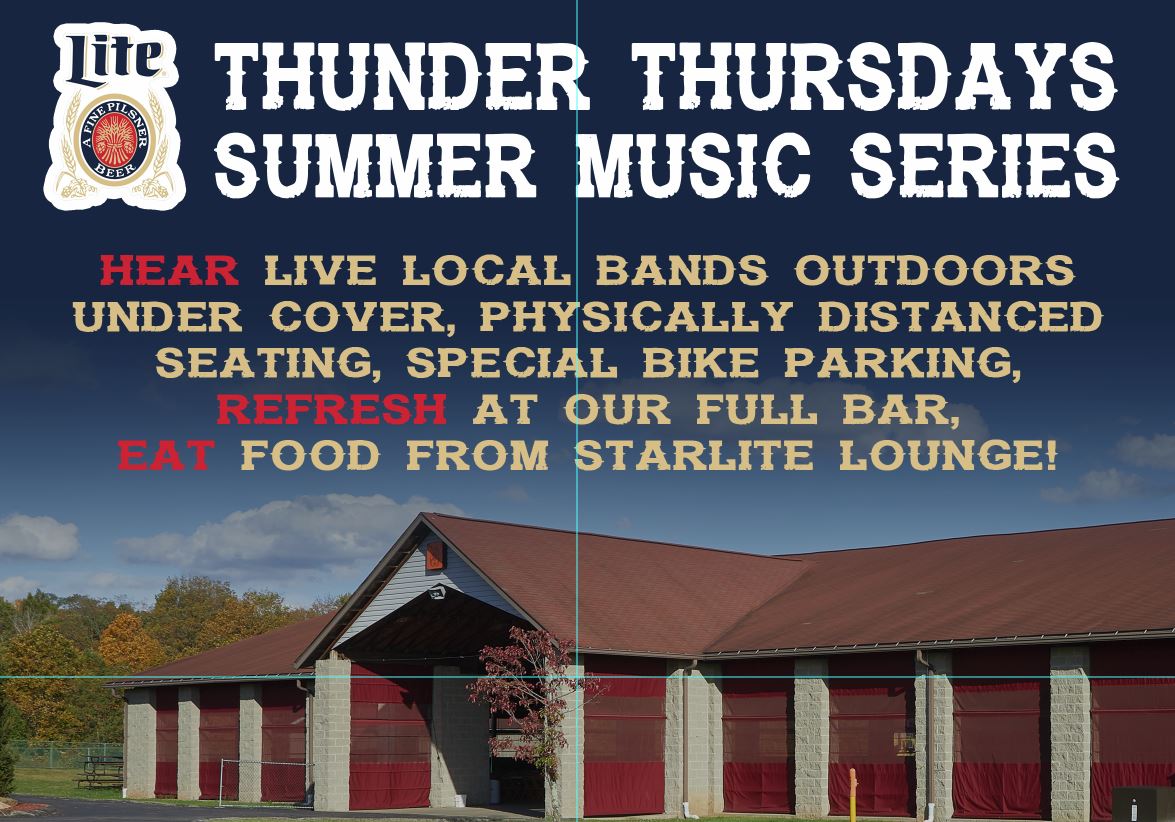 Syria Shriners August, 2020 Update
Proceeds benefit Syria Shriners. Ticket price is NOT tax deductibleWe have received approval from the Allegheny County Health Department to hold physically-distanced events at our facilities. Outdoor events are considerably easier to schedule right now, but we're able to have limited indoor events, too. Time to make hay while the sun shines, at least from a fundraising standpoint. We need to support and encourage our friends to join the fun on Thunder Thursdays Bike Nights, and read on for an exciting new fundraiser that will be critical to making the most of our fraternal fundraising opportunities this year.
Watch for additional communication, check our website at syriashriners.org, and follow our Facebook page for ongoing information as developments unfold.
Meanwhile, stay well. We look forward to seeing you soon.
AN IMPORTANT WORD TO ALL SYRIA SHRINERS
Clearly, this has been a very challenging year for Syria Shriners from a financial standpoint, and more, but particularly financially. We have been unable to do anything in our building since mid-March. Our wedding, prom, and corporate events have disappeared. Our important fundraisers from the Sportsmen's Bash to the First Choice Wine Festival, the North Hills Homebrewer's Fest, the fall Night at the Races, and our 3-day Rocktoberfest Pittsburgh festival have all been canceled, as have many of our pavilion rentals for outside events, leaving a gaping hole in the revenue side of our budget. We are doing everything possible to control expenses. For example, our office has been closed since March 16, and our facilities staff is operating with absolute minimum hours and workers. We have suspended publication of the VOICE of Syria Shriners, because there are no activities, and because we want to save the costs involved in production and mailing.
HERE'S WHERE IT GETS REAL
Our summer music events are doing well for us, and as we've been trying to do for years, we are drawing the general public to our facility, showing them a good time, and making some money in the process. Participation from our members, however, has been minimal. If even two per cent of our members would attend, we would reach our capacity every week.
That's why we need to count on YOU to help. It is important that you support our summer music series to the extent that you are able. Our Thursday night shows, and our ticketed weekend concerts, presented OUTDOORS in our spacious pavilion, with four seats to a table normally used by eight people, and all the tables distanced from one another, and mask protocols in place, are vitally important in helping us generate revenue and keep the wolf away from the door. If you can't personally attend these events for whatever reason, from personal income loss, to concern about public events, schedule conflicts, your taste in music, or your distance from the Shrine Center, please do what you can to support them, and please share them with your friends on Facebook and other social media. Talk with your friends about them. Ask them to join you for a very fun night or afternoon out.
We hope a dues increase is not necessary, but without YOUR ACTIVE SUPPORT NOW, that may well be an inevitable eventuality in the very near future. PLEASE DO YOUR PART TO SUPPORT YOUR TEMPLE. Thanks!
Call For Email Update Help
We're looking for someone to take over creation of these periodic email updates. If this is in your wheelhouse, and you're interested in helping out, please click HERE to email the Recorder.
Quarterly Meeting Canceled
Given current restrictions on indoor gatherings in Allegheny County, the complete lack of business to come before the body, and the shortened interval between the third and fourth Quarterly Meetings, and the less-than-satisfying experience of hold ing our last Quarterly meeting electornically, the Quarterly Meeting scheduled for August 3 has been canceled. We will next hold a Quarterly Meeting on Monday, October 5, at 7:30pm, in the Pittsburgh Shrine Center Ballroom, if possible, or using the ZOOM platform, if necessary.
This month at Pittsburgh Shrine Center
THUNDER THURSDAYS KEEP ON ROCKIN' THE PAVILION - THIS WEEK WITH THE STEVEE WELLONS BAND
Syria Shriners, in conjunction with Moondog's & the StarLite Lounge, proudly presents the Miller Lite Thunder Thursdays Summer Music Series, all summer long in the spacious Pittsburgh Shrine Center Pavilion, continuing weekly through October 1. We're excited to have this speical opportunity to add much-needed funds to our coffers in this challenging financial year.
Gates open weekly at 6pm, and the live music begins at 7pm. We wrap things up on stage at 9pm, so you won't have to stay up past your bedtime to have a good time. The StarLite Lounge, featured on Food Network's Diners, Drive-Ins & Dives, will be on hand to feed you. A full bar will be available. All events are rain or shine. You know our pavilion is impervious to inclement weather (and we've had plenty so far this summer), so the shows will go on, without regard to any raindrops we may see. YOUR support is critical to the success of this series.
MASKS ARE REQUIRED
NEVER A COVER ... BUT ALWAYS UNDER COVER - Plenty of great Miller Lite giveaways! - Attendance is limited to 250, so come early!
The Thunder rolls again this Thursday with the sultry blues, jazz, and rocks sounds of the Stevee Wellons Band. This group of seasoned pros has done it all over the years, in a variety of this area's greatest bands, and they'll be doin' it again for us on our very own Pitttsburgh Shrine Center pavilion stage Thursday night!
Check out Stevee and company below.
Watch this space for more information on the bands, vendors, and other fun stuff in store.
Please do your best to support this series. Mark your calendar, tell your friends, and be sure to share on your social media accounts!
WE CAN ALWAYS USE HELP. IN FACT, WE REALLY NEED IT!
IF YOU CAN VOLUNTEER, PLEASE CLICK HERE.


UPCOMING THUNDER THURSDAYS SHOWS
August 6 The Stevee Wellons Band
August 13 Tina Daniels Band
August 20 Bobby Thompson and The Groove
August 27 The Bail Jumpers
Ladies Luncheon Saturday, August 8 Honors First Lady Eleanor Taylor
The 2020 Ladies Luncheon, honoring Syria Shriners First Lady Eleanor Taylor is fast approaching on Saturday, August 8. Doors open at 10:30am, and the program gets under way at 11:15am. Lady Debbie Green is chairing the event, and Lady Kathy Steinheiser is handling tickets and seating arrangements. Click here for reservations.
Due to physical distancing guidelines, tables will now need to be four or six ladies, rather than eight or ten, and tables will be placed in such a way as to guarantee a safer environment for all guests. Thank you for understanding. We will try to accommodate your seating requests as best we can.
Let's have a great day to honor a special Lady! Plan to stick around for the fabulous concert below!
Bill Toms and Hard Rain, featuring the Soulville Horns with special guest, Aris Paul Band, Saturday, August 8
"BILL TOMS IN PITTSBURGH LAYS LEGITIMATE CLAIM AS ONE OF THE WORTHIEST MEMBERS OF THE BLUES-SOUL CAMP THAT REVERES STAX/HI WITHOUT SUFFOCATING IN REVIVALIST CLICHES."
- DOWNBEAT MAGAZINE -
Pittsburgh rock 'n' roll legend Bill Toms returns to the Pittsburgh Shrine Center Pavilion, THIS SATURDAY, August 8 at 4pm. Bill and his band Hard Rain are backed by the fabulous Soulville Horns, featuring Syria Shriners Noble Steve Graham on trombone, Phil Brontz on sax, and George Archer on trumpet.
Bill Toms launched his musical career in 1987 as lead guitarist of Pittsburgh's legendary band Joe Grushecky and The Houserockers, During that period, he opened for and played with such legendary names as The Band, Bob Dylan, Bruce Springsteen, Little Feat, and Stevie Ray Vaughn. While playing guitar, co-writing, and adding backup vocals for the Houserockers, Toms and the band recorded six studio albums and one live concert album together. In 1995, The Houserockers released American Babylon, which was recorded and produced by Springsteen himself.
With nine studio albums and last year's Live! CD under their belt, Bill Toms and Hard Rain have been delighting audiences across the USA and in Europe for many years since.
As a solo artist, Toms has opened for the likes of Buddy Guy, Levon Helm, Marshall Crenshaw, The Kennedys, Steve Forbert, and Ellis Paul.
The current pandemic has severely limited our opprotunities to catch this great act, and we've got them, this coming Saturday!
Award-winning singer-songwriter/gutiarist Aris Paul and his band will wopen the show.
General admission tickets are $15 in advance, $20 at the gate. Showtime is 4pm. General admission opens at 3pm. Early entry tickets, at $25, get you in at 2:30pm, and your first drink is on the house!
For more info on these outstanding bands, click the photos above.
Early entry & advance tickets available below. Tickets are moving fast. Don't get shut out. Trust me, you don't want to miss this show!
WE ARE HARD AT WORK TRYING TO FINALIZE OTHER SHOWS THIS SUMMER, INCLUDING A COUNTRY SHOW, SATURDAY, AUGUST 29. PROSPECTIVE DATES INCLUDE SEPTEMBER 19, AND OCTOBER 3. STAY TUNED FOR DETAILS!
The Big Band is Back!! (We hope!)
Swing Time Nights Scheduled to Return Friday, August 21
Swing Time Nights, featuring the Syria Shriners Stage Band, return to the Pittsburgh Shrine Center Ballroom, Friday, August 21, The band was just ready to kick off its 2020 season when Shrine activities were suspended, so the July date marks the band's 2020 debut. The music starts at 7pm, and admission is $5 at the door. Come on out and swing!
COMING UP NEXT MONTH ...
Miller Lite Thunder Thursdays continue!
More concert dates to be announced!
Oktoberfest Returns to the Pittsburgh Shrine Center Pavilion, Sunday, September 27! Always one of our most popular events . Stay tuned for more information!


CASH Give-A-Way Lottery Fundraiser Crucial to Success
by Randy Hobaugh, Second Ceremonial Master
I would like to share with you a new Syria Shrine fundraiser that will replace our long-standing Car Raffle. For the past couple of years, the raffle ticket sales have been declining, and it's time to introduce something new. With that said, this year we will be kicking off a $25,000 HOLIDAY CASH GIVE-A-WAY .
This lottery fundraiser will be given away during the week of Christmas.
Syria Holiday Cash Give-A-Way Ticket will be sold for $10 per ticket, with a total giveaway of $25,000.
The prizes will be awarded on the PA Lottery 7pm Daily Pick 4, and two numbers will be printed on each ticket.
Prizes will be awarded as follows:
December 21 - $ 500
December 22 - $ 1,000
December 23 - $ 1,500
December 24 - $ 2,000
December 25 - $20,000 Grand Prize
We really need to sell all 5,000 tickets to optimize this fundraiser. We are very much hoping that everyone can buy and/or sell tickets to support this effort. Please do your best to help reduce our deficit, and avoid dues increases.
Proceeds benefit Syria Shriners. Ticket price is NOT tax deductible
Pittsburgh Shrine Center Office Closure
The Pittsburgh Shrine Center and Syria Shriners business office remains closed until further notice. Please keep our office and facilities staff, and our entire Syria Shriners family in your prayers. We all need to remember each other during this trying period. Call your fellow Shriners, and look after their well-being. Run errands to the grocery or drug store if your situation allows, and theirs does not.
Stay Informed!
There is so much misinformation being shared on social media and by email. Do yourself, and all of us, a favor, and go right to a trusted source for your information. Please don't pass along things you've seen posted or things you've been sent unless they have come directly from a legitimate public health or government authority. Click on the image to the left to visit the federal government's Centers for Disease Control and Prevention, FEMA and the White House at coronavirus.gov.
Here's a link to local information from the Allegheny County Health Department.