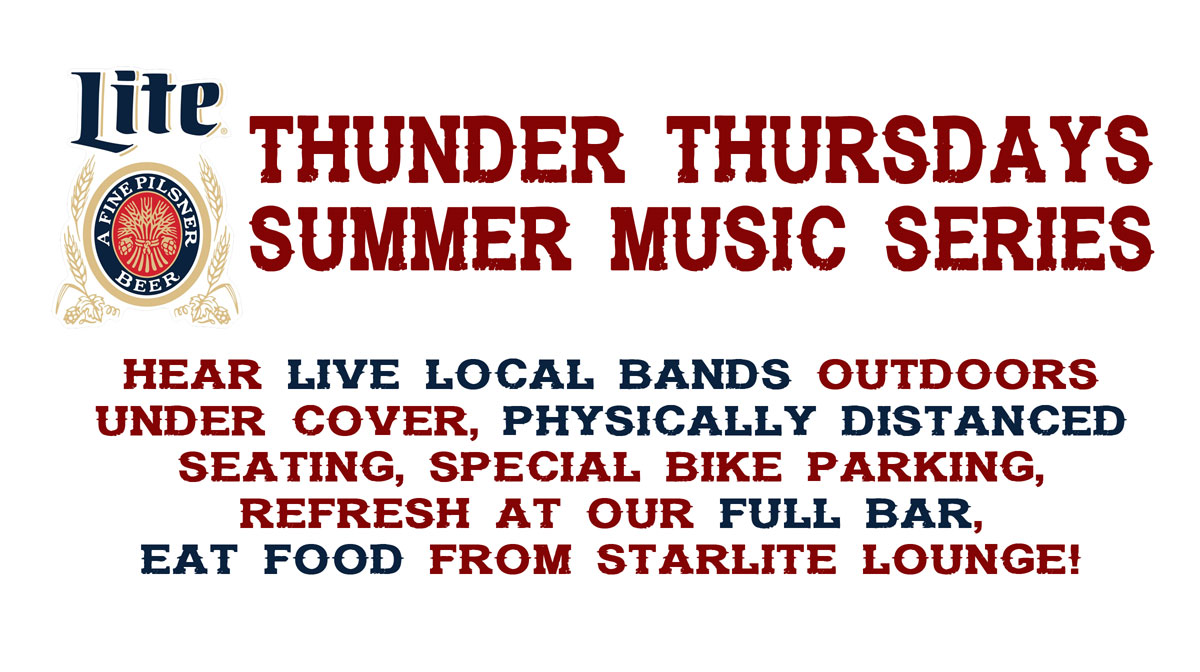 Pittsburgh Shriners Present Live Summer Music Series
Miller Lite Thunder Thursdays & Weekend Concerts Keep the Music Playing for Bands and Fans Alike
With precious few opportunities to enjoy live music this summer, Pittsburgh's Syria Shriners have stepped into the breach to offer local bands and music fans an airy, covered outdoor venue for live shows in the Pavilion at the Pittsburgh Shrine Center in Harmar.
Every Thursday night, the Miller Lite Thunder Thursdays Summer Music Series features local bands with physically-distanced seating, no cover charge, and no fear of inclement weather spoiling the fun. And on many weekends, ticketed concert events keep the music playing all summer and into October.
Tasty Partnerships
The Shriners have teamed up with Ronny "Moondog" Esser to produce the series. Shriners business manager Bob Addleman says, "we are so very happy to partner with Moondog's, the StarLite Lounge, and Band Together Pittsburgh to provide bands a place to play, and music lovers a place to enjoy them, in as safe an environment as we can offer. It's been a tough year, and we are glad we have a facility that can host these events. Our pavilion can hold 1,000 people, so we can provide ample physical distancing and still have a nice audience for our musicians."
Esser, who owns Moondog's and the StarLite Lounge in Blawnox, and is the man behind the music at the Pittsburgh Blues & Roots Festival and the Eight Great Tuesdays series in Erie, calls the shows, "a ray of sunshine on an otherwise dismal year for music. Moondog's has been closed since March, we've been able to do very little at the StarLite, the Blues & Roots Festival and the Erie concerts had to be canceled, The Shriners' series gives bands a stage, and their fans a place to see and hear them perform. I'm overjoyed to be a part of it. When music is what you've lived your whole life, you need it to stay sane."
Rockin' Entertainment
The Thursday series started June 11, and runs through at least October 1. The Billy Price Band kicked off the weekend concerts, July 26. Bill Toms and Hard Rain, featuring the Soulville Horns, and special guest, the Aris Paul Band, play this Saturday, August 8.
Thursday evening shows are from 7-9pm, with gates opening at 6pm each week. Weekend shows begin at 4pm, with gates opening for general admission at 3pm, and early entry at 2:30pm. Tickets to weekend concerts are available at syriashriners.com.
Upcoming Shows:
(More dates and performers will be announced soon.)
| | |
| --- | --- |
| Thursday, August 6 | The Stevee Wellons Band |
| Saturday, August 8 | Bill Toms and Hard Rain, featuring the Soulville Horns, with the Aris Paul Band (Get Tickets Here!) |
| Thursday, August 13 | The Tina Daniels Band |
| Thursday, August 20 | Blues Society of Western Pennsylvania Night with Bobby Thompson and The Groove |
| Thursday, August 27 | The Bail Jumpers |
| Thursday, September 3 | Bubs McKeg & The Aces |
| Thursday, September 10 | Shot O' Soul |
| Thursday, September 17 | Curtis and the SHAKERZ |
| Thursday, September 24 | The Shiners |
About Pittsburgh's Syria Shriners
With nearly 4,000 members in Western Pennsylvania, Pittsburgh's Syria Shriners is one of the largest of the nearly 200 local chapters of Shriners International worldwide. The goal of the Shriners is to be the premiere fraternal organization for men of good character. The Shriners are committed to providing attractive, quality programs and services for its members, their families, friends, and the community in a spirit of fun, fellowship and philanthropy. Shriners foster self-improvement through leadership, education, the perpetuation of moral values and community involvement. Shriners serve humankind through the resources of its great philanthropy, the Shriners Hospitals for Children®. For more information, please visit www.syriashriners.org