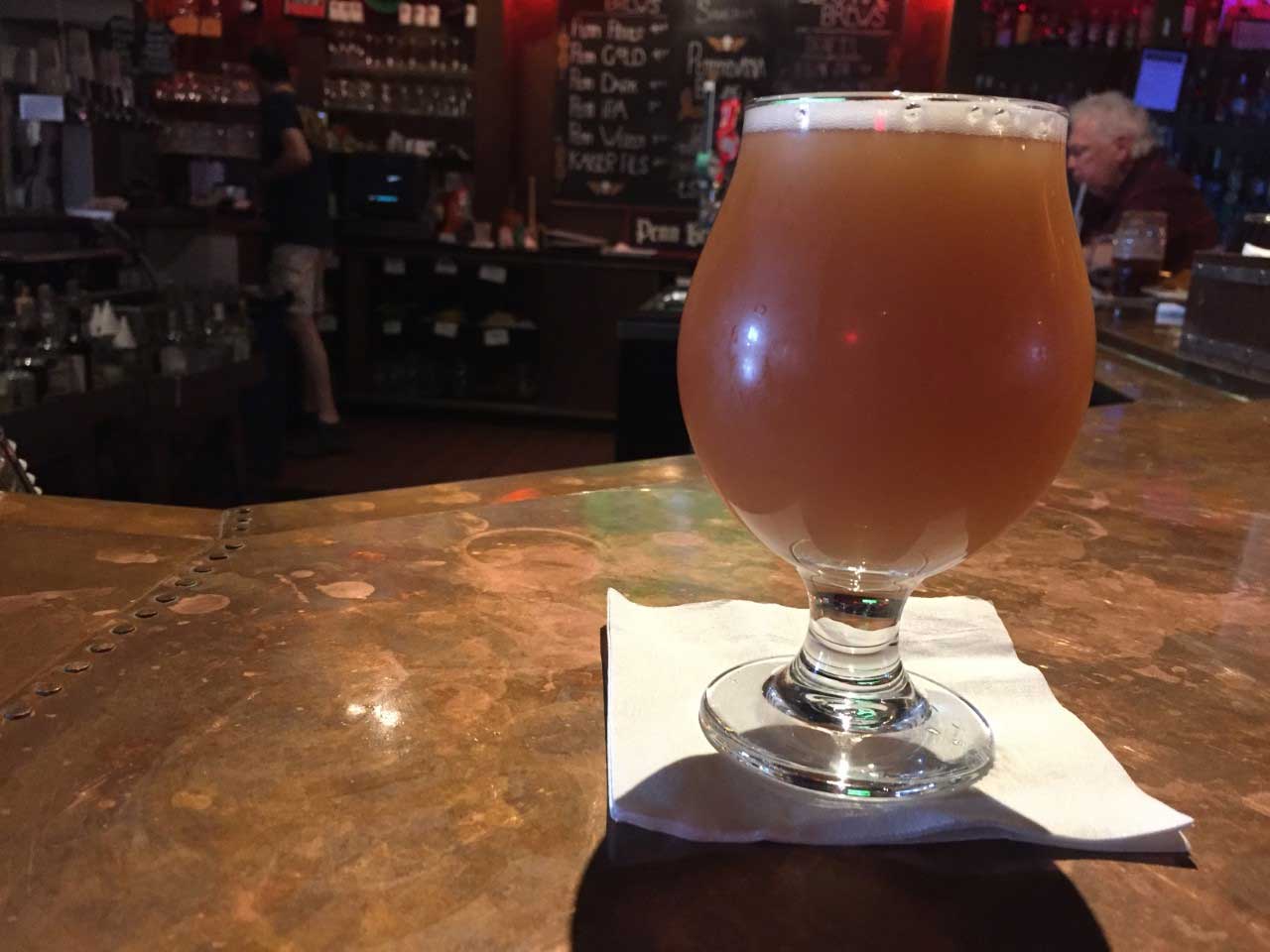 2019 North Hills Home Brew Fest Winning Beer Takes Victory Lap at Penn Brewery
Representatives from the North Hills Home Brew Fest were present in Pittsburgh's North Side section this past Saturday August 24th. The air tingled with excitement for the debut of the 2019 winning beer from Tim Guido's Hounds Run Brewing. Bucco Blue had finally arrived! Through an incredible partnership between Penn Brewery and the North Hills Home Brew Fest, the winning beer is brewed and served for a limited time to try at Penn Brewery.
COMPETITION JITTERS
"It was the first time I've ever done anything like that, says Hounds Run Brewing's Tim Guido. "And I was hesitant because I call my friends about the beer I make, you know, and they want to drink the beer. They're not really good critics. That was the biggest thing to get past was giving total strangers my beer. I was going to have to face what they really thought, and they weren't going to candy coat it."
Tim might be a humble guy, but his Bucco Blue is no humble beer.
LIFE CHANGING RECOGNITION
Winning a prestigious event such as the NHHBF has catapulted Tim and his Wife Andrea into home-brewed beer stardom. Andrea says recognition has come quickly.
"What I noticed is the craft beer drinkers going from beer fest to beer fest and how the word had spread. They're like 'oh this is the blueberry that won, you've got to try this.' Friends that might have missed it at the North Hills Home Brew Fest are excited to try it. So the word had spread in a small amount of time," she said.
Tim is now emboldened to enter other beer-brewing festivals with plans for showcasing his skills again soon.
WHAT GOT YOU INTO IT?
"I had been home brewing about 10-11 years," Tim describes. "I was working with a friend and we got into drinking craft beer about 15 years ago and it was sort of like a big change. Previous to that I would drink Genesee Light, Bud Light, and then I started drinking craft beer. There are so many different options and styles, and so I got interested in it. Somebody introduced me to a home brew shop in Tarentum. I ended up buying a $75 starter kit with a couple of pre-packaged ingredients. Once I started brewing I said wow this is drinkable, I could do this. And then it started snowballing. 4 or 5 years ago I built my own 3 vessel system on a double burner. Every year it's like I have got to do something new. The whole engineering part of it I love."
Tim Guido's Hounds Run Brewing boasts between 12 and 13 different styles of beer. Some of Tim's favorite beers to make include Kolsch, Rye IPA, Tangerine IPA, and a Gingerbread Stout for the holidays.
COMMERCIAL BREWING VERSUS HOME BREWING
If you were at the 2019 NHHBF, then you got to taste Bucco Blue in all its glory. Brewing at scale, however, means accepting a few adjustments.
"The process (at Penn Brewery) is pretty much the same as what I do at home", says Tim. "The 2 biggest changes are when I do it at home, after the primary fermentation happens, I rack on top with whole frozen blueberries. (Penn Brewery) won't take a chance on wild yeast being on the blueberries, so we had to go with blueberry puree right into the primary fermenter."
"The second thing was the honey. I put my honey in usually on day 2 of primary fermentation. Here they won't put anything in while its fermenting, so we had to put it in the boiler," Tim said.
The excitement for the debut of the winning beer and the smile on its creators' face overshadowed any differences in production methods.
SMALL SCALE BREWERIES TAKING OFF
It seems like a new brewery is opening almost monthly across Western Pennsylvania. Tim says he is appreciative of the home-brewed beer industry, and he roots for the small operations. "I sort of think the smaller the better. I like the shops that are set up in storefronts, you know a couple 1000 square feet."
Tim came close to opening his own brewery a few years back. It having never launched, though, Tim considers a bit of a blessing, and a cautious tale for those with brewery ambitions.
"We looked into opening a brewery in Lower Burrell about 4 years ago. We actually found a place, we went through the zoning, I actually got financing and then the relationship soured with the owners of the building. We were ready to roll. We were ready to start signing the leases. I had my equipment picked out. Some red flags came up with the building owners and it caused us to take a step back."
A HOBBY FOR NOW
Tim and Andrea see home brewing as a worthwhile pastime, and don't envision any plans to capitalize on the newly-found fame of winning the 2019 NHHBF.
"We are not interested in expansion now," Tim said. "We've talked about it and we're comfortable doing what we're doing. It's for fun. It costs us a lot of money because I like to expand and to do new stuff. This is a good avenue - finding these festivals where I can give product away instead having all this beer and wondering what I'm going to do with it. The biggest thing is that I like to brew as much as I can just to keep on getting better and try new things."
ADVICE FOR CONTENDERS
Thinking of taking a shot at the North Hills Home Brew Fest crown? All you need is to do your research, says Tim. "There is so much research available on the internet through different publications and things. That's all I do, read research and try and come up with new things. Don't be afraid to do it and try something different. What's the worst you can do? Drink bad beer for a couple of months to get rid of it."
WILL HOUNDS RUN BREWING REPEAT IN 2020?
Tim and Andrea can't wait to return to the North Hills Home Brew Fest in 2020 to defend their title. But Tim has no qualms about the competition at this popular Pittsburgh event. There is an even bigger reason for why Tim and home brewers around the region continue to brew.
"Well I didn't expect anything when I first entered. That was the nice thing about it. I had zero expectations. I went to the Oakmont festival a month later, soon after winning the North Hills Home Brew Fest, and I changed my lineup, which didn't win that time. There's going to be a lot of expectations now. There's a lot of good beers that people are making for these festivals. It's not about winning for me. It's actually about the camaraderie. It's about meeting the other brewers. I brewed for several years by myself. I never talked to anyone about brewing."
"I like the camaraderie between them, says Andrea. "They're not keeping secrets about their brewing methods or what they do. Everybody's happy to share, and I like that about it."
"You see that with professional Brewers as well, Tim said. "They may hide bits and pieces of their recipes, but if you look on any commercial brewer's website, they'll tell you what goes into those beers. There are no secrets."
It is no secret that the North Hills Home Brew Fest is returning in May of 2020 to the Pittsburgh Shrine Center Pavilion. We'll be cheering Tim on, and can't wait to see you all there!