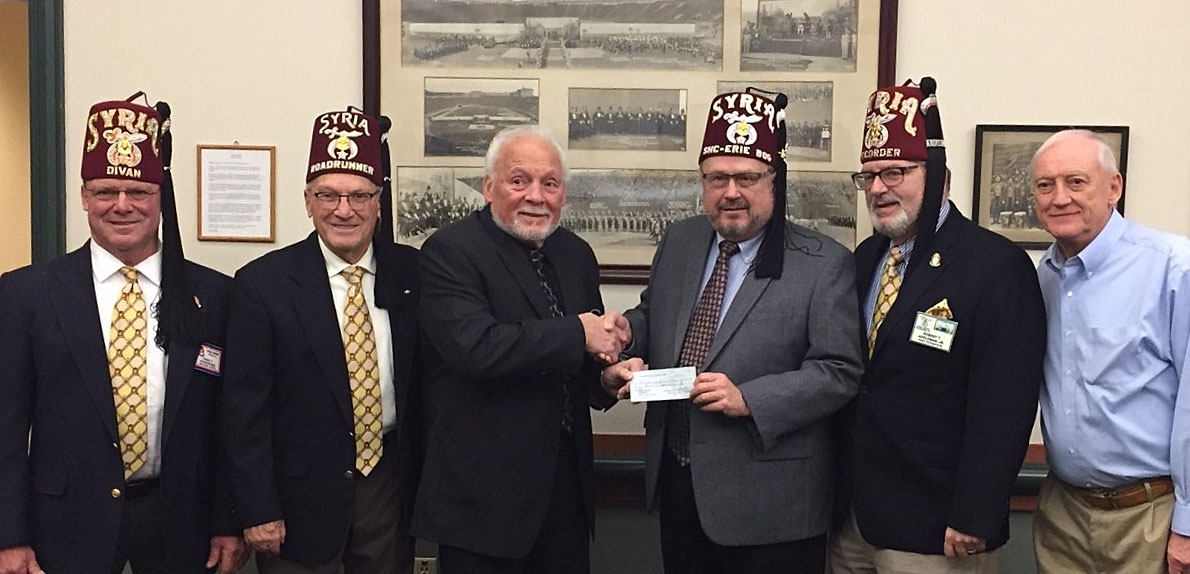 Shriners Hospitals for Children – Erie Receives Large Donation from Hypnotism Society
The Hypnotism Society of Pennsylvania was a non-profit organization. Like many organizations it lost membership and decided to shut its doors. They had funds left in their treasury and decided to donate it to the Shriners Hospitals for Children - Erie.
You would think that would be easy, but no, there are rules and procedures to shut down a non–profit organization and donate to another non-profit organization.
A couple of years ago the process started with Robert F. McCabe, Jr., ESQ starting to acquire the government forms needed to accomplish this task.
Just recently, Solicitor & Shrine Center Attorney Alexander H. Lindsay, ESQ had his group complete all the requirements to allow the Hypnotism Society to shut down and donate to Shriners Hospital.
Stan Malak spearheaded the closure of his Hypnotism organization and wanted all types of media attention to cover the check presentation. Trib Total Media was kind enough to share the news:
The Erie Hospital had another function that same day and was not able to attend, but two members from the Erie Hospital Board of Governors were present.
On December 11, 2019 the check was presented in the Syria Shrine Board room. Samuel Santini, Hypnotism Society President, presented a check to Dr. Barry Hootman, Md., Erie B.O.G. member. They were flanked by six smiling faces.
In the picture left to right are Terry Steinheiser, Syria Shrine High Priest & Profit, Alvin Douglas, Jr. B.O.G. Emeritus, Roadrunner Chairman, Samuel Santini Hypnosis President, Dr. Barry Hootman, Md., Erie B.O.G. member, Robert Addleman, Jr, .P.P., Recorder, and David Gardy, P.P. Treasurer.
Stan Malak, Hypnotism Society member, was behind the camera and camera shy.
On December 19, 2019 at the Erie B.O.G. board meeting Syria Shrine board members will present the check in the amount of $17,677.68. A great donation to Shriners Hospitals for Children - Erie!
-Al Douglas